Gold has consolidated near the low of the past two weeks following on from its Brexit rally.
Having increased by 25% since the beginning of the year the pause in its rally comes as Barnabas Gan, an economist at Singapore-based Oversea-Chinese Banking Corp observes that "Market risk-on sentiment seems to have gone back" on the table, as reported by Bloomberg today.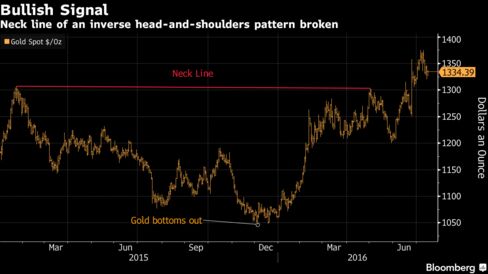 Recent positive economic data out of the U.S. including positive retails sales, consumer prices and employment statistics have lured investors back in to the equity markets and trimmed the rally in gold. However, this recent positive economic news needs to be viewed against the backdrop of it being an election year in the U.S. and the desire of the White House to create a connection between positive economic sentiment and the democratic administration.
You can read the full article here 
Gold and Silver Bullion – News and Prices
Gold holds on to overnight losses; central bank policies in focus (Reuters)
Gold Daily and Silver Weekly Charts – Same Old (24hgold)
Investors Pull Most Money Out of SPDR Gold in Eight Months (Bloomberg)
Gold holds on to overnight losses as risk-on mood drags (Reuters)
SP 500 and NDX Futures Daily Charts – The Dog Days of Summer (24hgold)
A warning from Turkey for emerging-market investors (Moneyweek)
The Greatest Lie Ever Told (Silverseek)
No U.S. rate hike until 2018 – and it's the consumer to blame, Morgan Stanley says (Marketwatch)
Gold Prices (LBMA AM)
19 July: USD 1,332.20, EUR 1,203.376 & GBP 1,009.042 per ounce
18 July: USD 1,326.15, EUR 1,200.298 & GBP 1,000.050 per ounce
15 July: USD 1,330.50, EUR 1,194.789 & GBP 994.150 per ounce
14 July: USD 1,325.705, EUR 1,192.99 & GBP 1,001.96 per ounce
13 July: USD 1,340.25, EUR 1,211.45 & GBP 1,009.74 per ounce
12 July: USD 1,352.85, EUR 1,217.84 & GBP 1,029.11 per ounce
11 July: USD 1,358.25, EUR 1,231.66 & GBP 1,059.95 per ounce
Silver Prices (LBMA)
19 July: USD 19.99, EUR 18.07 & GBP 15.18 per ounce
18 July: USD 19.72, EUR 17.83 & GBP 14.89 per ounce
15 July: USD 20.14, EUR 18.08 & GBP 15.06 per ounce
14 July: USD 20.25, EUR 18.23 & GBP 15.15 per ounce
13 July: USD 20.29, EUR 18.31 & GBP 15.25 per ounce
12 July: USD 20.35, EUR 18.35 & GBP 15.47 per ounce
11 July: USD 20.47, EUR 18.53 & GBP 15.78 per ounce
Recent Market Updates
– Gold, Trump and Rates: Bank That Foresaw Rally Flags $1,500
– Gold Lower After Central Bank's Surprise Move
– "We Are On the Cusp of an Explosion in the Silver Price" – John Embry
– Stocks Rally – Is Brexit Systemic Risks Contained?
– Britain has a new prime minister – here's what that means for you
– Metals Caught Between Global Gloom, U.S. Job Gains as Gold Slips
– Central Bank Resumes Monthly Gold Buying in Bid to Diversify Reserves
– Property Fund Turmoil in the UK has Eerie Echoes of Bear Stearns
– "In Gold We Trust" Annual Report – New Bull Market "Emerging"
– 3 Charts Show "How Precious Brexit Is" for Gold and Silver Bullion
– Gold, Silver Best Performing Assets In H1, 2016 – Up 26% & 38%
The post Gold Holds Near Two-Week Low as Risk Appetite Rises on U.S. Data appeared first on GoldCore Gold Bullion Dealer.