Following on from the Brexit vote last month the IMF have decided to re-evaluate their forecast for global growth.
Bloomberg  reports that they have revised their original 3.2% forecast down to 3.1% for 2016 and from 3.5% to 3.4% for 2017. While these feel like very modest revisions ,the IMF would not be known for radical changes of direction preferring slow and steady revisions.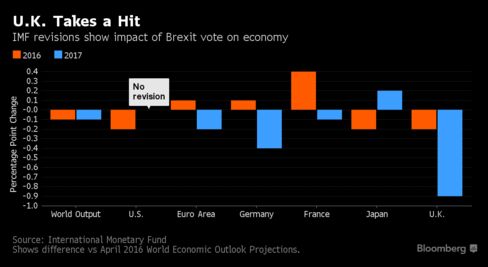 Their new forecast is based on the assumption that British and EU officials reach new trade agreements that avoid a "large increase in economic barriers." However, if talks break down, Britain will slip into recession as more financial institutions relocate to the euro area and consumption and investment contract more than expected, the fund said. In a "severe" scenario, global growth is seen sliding to 2.8 percent this year and next.
You can read the full article here 
Gold and Silver Bullion – News and Prices
Gold steady as rally in equities loses steam (Reuters)
Gold futures notch a nearly 1-week high (Marketwatch)
Gold Daily and Silver Weekly Charts (24hgold)
Gold Miners Set to Relax Death Grip on Spending as Caution Eases (Bloomberg)
Recession coming? Here's how to find out (Marketwatch)
After Brexit, ordinary Britons warm to gold as safe haven (Reuters)
This is all you need to know about gold right now: it's a bull market (Moneyweek)
Gold Prices (LBMA AM)
20 July: USD 1,325.60, EUR 1,204.308 & GBP 1,005.865 per ounce
19 July: USD 1,332.20, EUR 1,203.376 & GBP 1,009.042 per ounce
18 July: USD 1,326.15, EUR 1,200.298 & GBP 1,000.050 per ounce
15 July: USD 1,330.50, EUR 1,194.789 & GBP 994.150 per ounce
14 July: USD 1,325.705, EUR 1,192.99 & GBP 1,001.96 per ounce
13 July: USD 1,340.25, EUR 1,211.45 & GBP 1,009.74 per ounce
12 July: USD 1,352.85, EUR 1,217.84 & GBP 1,029.11 per ounce
Silver Prices (LBMA)
20 July: USD 19.70, EUR 17.88 & GBP 14.95 per ounce
19 July: USD 19.99, EUR 18.07 & GBP 15.18 per ounce
18 July: USD 19.72, EUR 17.83 & GBP 14.89 per ounce
15 July: USD 20.14, EUR 18.08 & GBP 15.06 per ounce
14 July: USD 20.25, EUR 18.23 & GBP 15.15 per ounce
13 July: USD 20.29, EUR 18.31 & GBP 15.25 per ounce
12 July: USD 20.35, EUR 18.35 & GBP 15.47 per ounce
Recent Market Updates
– Gold Holds Near Two-Week Low as Risk Appetite Rises on U.S. Data
– Gold, Trump and Rates: Bank That Foresaw Rally Flags $1,500
– Gold Lower After Central Bank's Surprise Move
– "We Are On the Cusp of an Explosion in the Silver Price" – John Embry
– Stocks Rally – Is Brexit Systemic Risks Contained?
– Britain has a new prime minister – here's what that means for you
– Metals Caught Between Global Gloom, U.S. Job Gains as Gold Slips
– Central Bank Resumes Monthly Gold Buying in Bid to Diversify Reserves
– Property Fund Turmoil in the UK has Eerie Echoes of Bear Stearns
– "In Gold We Trust" Annual Report – New Bull Market "Emerging"
– 3 Charts Show "How Precious Brexit Is" for Gold and Silver Bullion
– Gold, Silver Best Performing Assets In H1, 2016 – Up 26% & 38%
The post IMF Scraps Forecast for Global-Growth Pickup on Brexit Fallout appeared first on GoldCore Gold Bullion Dealer.