Top Gold Forecaster Says "As Quickly As Gold Fell" May "Rally Back" on Global Risks
Gold's largest plunge in 14 months may soon reverse according to gold's top forecaster in Q3 according to Bloomberg: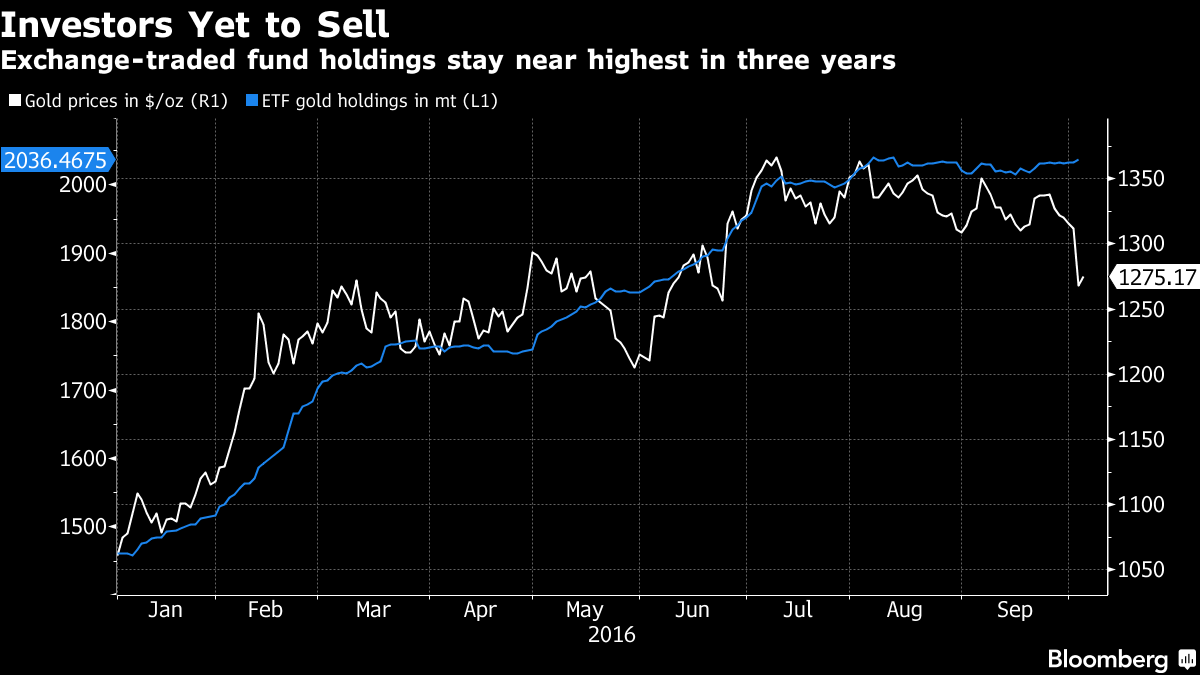 Looming risks from the U.S. presidential election in November to Britain starting talks to leave the European Union next year may boost its role as a haven, said Barnabas Gan, an economist at Oversea-Chinese Banking Corp. in Singapore. Increasing shale oil output in the U.S. is also likely to cool the surge in crude prices, curbing inflation, he said.

"As quickly as gold fell, as quickly gold could rally back," Gan said in a report received Wednesday. "Weak inflationary pressures may once again lift gold prices back to their previous shine." He was the most accurate forecaster of the metal in the third quarter, according to Bloomberg data.

Bullion slumped Tuesday on speculation that the period of easy monetary policy is ending. The European Central Bank was said to be building an informal consensus to wind down bond purchases gradually, while Federal Reserve officials called this week for higher U.S. borrowing costs amid signs of an improving economy. Oil prices have also been rising, stoking inflation worries and boosting the odds of a rate hike.

Little evidence has emerged of investors cutting holdings in exchange-traded funds. Assets climbed 3.1 metric tons to 2,036.5 tons Tuesday to hold near the highest level since 2013, data compiled by Bloomberg show.

Some further downward pressure is still expected in the near term from an eventual victory for Democrat Hillary Clinton in the presidential poll on Nov. 8, which would price the risk of dramatic policy uncertainty under Donald Trump out of the market, according to BMI Research. Over the long term, low real interest rates would ensure precious metals remain an attractive investment, it said in a report dated October 4.

Bullion may average $1,400 next year, BMI forecasts.
Gold forecasting is a mugs game at the best of times but given the uncertain geo-political situation, the fragile banking system and the very strong fundamentals for gold, it is hard to argue with Barnabas Gan of OCBC  or BMI. Gold should be meaningfully higher in the coming months and into 2017 as investors diversify into gold. Or rather we are likely to see dollars, euros, pounds and other fiat currencies continue to be devalued versus gold.
Full article on Bloomberg here
Gold and Silver Bullion – News and Commentary
Wounded Gold Bull Market Steadies After Worst Slump in 3 Years (Bloomberg)
Gold edges up as bargain hunters step in after falls (Reuters)
Fed Hike Shouldn't Shake Investor Faith in Gold, Says Mine Chief (Bloomberg)
Gold steadies after extending losses to lowest since June (Reuters)
Banks must face U.S. gold rigging lawsuit (Reuters)
Video: Gold's "Path Of Least Resistance Is Up", Silver More Potential (Bloomberg)
Deutsche Shows Banking Remains "Accident Waiting To Happen" – Wolf (IrishTimes)
Deutsche Bank Brings Too-Big-to-Fail Quandary Home to Merkel (Bloomberg)
Gundlach: "Deutsche Bank Will Be Bailed Out But What About Credit Suisse" (ZeroHedge)
Gold & Silver Smash Was Orchestrated To Bailout Shorts (KingWorldNews)
Gold Prices (LBMA AM)
06 Oct: USD 1,265.50, GBP 994.30 & EUR 1,131.23 per ounce
05 Oct: USD 1,274.00, GBP 1,001.11 & EUR 1,134.37 per ounce
04 Oct: USD 1,309.15, GBP 1,026.90 & EUR 1,172.21 per ounce
03 Oct: USD 1,318.65, GBP 1,023.40 & EUR 1,173.99 per ounce
30 Sep: USD 1,327.90, GBP 1,025.01 & EUR 1,187.67 per ounce
29 Sep: USD 1,320.85, GBP 1,016.92 & EUR 1,177.14 per ounce
28 Sep: USD 1,324.80, GBP 1,020.10 & EUR 1,181.06 per ounce
Silver Prices (LBMA)
06 Oct: USD 17.76, GBP 13.98 & EUR 15.88 per ounce
05 Oct: USD 17.80, GBP 13.99 & EUR 15.86 per ounce
04 Oct: USD 18.74, GBP 14.68 & EUR 16.78 per ounce
03 Oct: USD 19.18, GBP 14.89 & EUR 17.07 per ounce
30 Sep: USD 19.35, GBP 14.92 & EUR 17.33 per ounce
29 Sep: USD 19.01, GBP 14.61 & EUR 16.95 per ounce
28 Sep: USD 19.12, GBP 14.69 & EUR 17.05 per ounce
Recent Market Updates
– Gold Buying 'Opportunity' After Surprise 3.4% Drop
– Deutsche Bank "Is Probably Insolvent"
– GBP Gold Rises 1.3% as Sterling Slumps On 'Hard Brexit' Concerns, Up 36% YTD
– Why Krugman, Roubini, Rogoff And Buffett Hate Gold
– ECB Refused "To Answer Questions" – Deutsche Bank "Systemic Threat" Is "Not ECB Fault"
– Euro "Might Start To Unravel" If Collapse Of Deutsche Bank
– Do You Really Own Your Gold?
– "Gold Will Likely Soar To A Record Within Five Years"
– Savings Guarantee? U.N. Warns Next Financial Crisis Imminent
– Gold Up 1.5%, Silver Surges 3% – Yellen Stays Ultra Loose At 0.25%
– Trump and Clinton Are "Positive For Gold" – $1,900/oz by End of Year
– Gold Bugs Rejoice – Central Banks Think You're On To Something
– 'Hard' Brexit Looms For Ireland
Log In and Buy Now To Lock In Lower Gold and Silver Prices
The post Top Gold Forecaster: "As Quickly As Gold Fell" May "Rally Back" on Global Risks appeared first on GoldCore Gold Bullion Dealer.